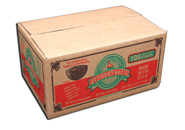 Lightning Nugget Firestarters are the answer to one step no-hassle fire building. Comprised of one of nature's by-products, pitchwood, this unique product is top of the line in quality, safety and convenience. Free from any harmful chemicals, Lightning Nugget Firestarters are safe for use in any wood burning appliance and leave no residue. Eliminates messy liquids and gels, with no more guessing about how much to use. Once you have experienced the ease and effectiveness of these firestarters you'll love making a fire!
Lignetics has a full line of Firestarters in convenient, user-friendly packaging. Flake Firestarter in 16oz resealable zip-lock bags, Firestarter gel in 16oz and 32 oz bottles with flip-top cap, Firestarter discs (10 per pack) and Firestarter Sticks (9 per pack) in a resealable zip-lock bag (ideal for camping).
Lignetics has a firestarter for your individual needs. Our firestarters are easy to light and easy to use for starting your pellet stove, campfire, charcoal BBQ grill, wood stove, fireplace or your wood cookstove.